In 1976-1977 a group of aspiring physicians were in medical school in Egypt, and the concept of a Center of Medical Excellence and Training was planted in their hearts and minds. These students dreamed of working together in a hospital that would manifest God's love and compassion in all aspects of patient care.They envisioned providing excellent medical care that would draw people to ask why this place is different from others – and eventually draw them to seek God as their divine Healer and Savior.

In 1998 the vision re-ignited through prayers and discussions with a group that grew to over fifteen people. Most of these are physicians spread throughout Egypt, the U.K., and the U.S. They began to meet, pray, and plan with other pioneers who shared their wisdom and expertise from similar visions.

C.O.M.E.T. (Centers of Medical Excellence and Training) was established in the U.K. in 2003 and formally recognized as a tax-exempt non-profit in the U.S. in 2004.
By January 2009 C.O.M.E.T. had leased, refurbished, equipped, and opened the Amoun-C.O.M.E.T. Satellite Medical Center in the El-Agouza district in Cairo, which includes a polyclinic and a same-day surgical suite to provide high-quality medical care. C.O.M.E.T. has supported existing local charitable health care facilities and has provided expertise and training through medical seminars in the Germania hospital in Aswan (southern Egypt). C.O.M.E.T. has helped launch a family practice training program at the Germania hospital to equip physicians to serve in southern Egypt and Sudan.

Please prayerfully considering partnering with us to accomplish this vision. C.O.M.E.T. will witness to the love and compassion of Jesus Christ through practical means to Egypt and the Middle East, seeking to follow the example of the Lord in Acts 10:38, "How God anointed Jesus of Nazareth with the Holy Spirit and power, and how He went around doing good and healing all who were under the power of the devil, because God was with Him."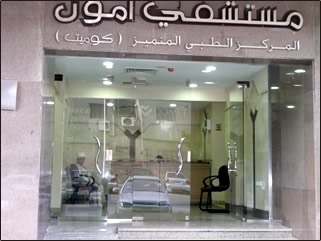 Image 1 of 5. Click photo to enlarge.

Executive Board
Pastor/Dr. Sameh Mourice, Egypt
Dr. Rafik Refaat, United Kingdom
Dr. Maher Kozman, United States

Egypt Team
Pastor/Dr. Sameh Mourice
Essam Milad, MD, Urologist
Maged Tawfik, MD, Nephrologist
Khaled Leon, MD, Cardiologist
Nabil Wasfy, MD, Anesthesiologist
Ayman Mounir, MD, Pulmonologist
Akram Guiruis, Business Management
Dr. Lucy Elmaasarani, Medical Director

U.K. Board
Dr. Rafik Refaat, Consultant, Psychiatrist
Ewan McKendrick, Oxford Law Professor
Tim Record, Project Director
Nigel Buchanan
Sarah Bruce
Alicia Flece

U.S. Board
Maher Kozman, MD, Psychiatrist
Safwat Zaki, MD, Urologist
Tim McVay, DO, Family Physician
Sherif Naguib, MD, Family Physician
John B. Waits, MD, Family Medicine Residency Director
Emad Assham, MD, Transplant Surgeon

U.S. Advisory Board
John Crouch, MD, Founder of IHI International
Warren Heffron, MD, Former President of ABFM
(American Board Family Medicine)